Celebrities on Motorcycles
Celebrities, bikers and motorcycle enthusiasts love one of our newest gifts under glass, a motorcycle sculpture made from business cards.
Doesn't matter if your rider commands the front door or the back door or whether they're a 'belly shover' or a cruiser; or if their ride is a Hog, Bagger, Crotch Rocket, Mud Puppy, Bar Hopper or Pasta Rocket (or Rice Rocket), your Ride Captain will love this business card sculpture.
Give one to someone who has hit The Ton or The Double! Use it as an award or for retirement gifts! This is one of our most intricate designs! Price: $95*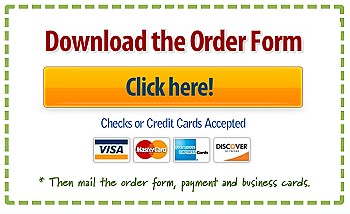 "Keep the shiny side up!"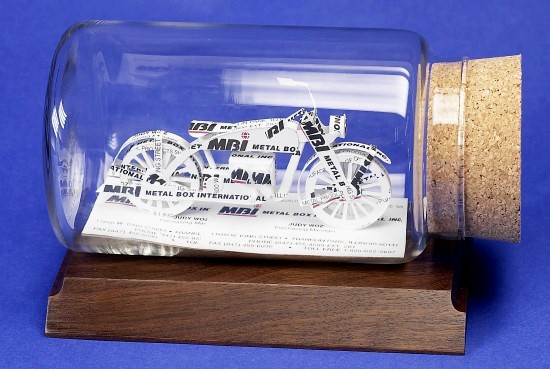 Celebrity Motorcycles
Hollywood's top stars own some very expensive motorcycles. Brad Pitt, Tom Cruise and Jay Leno own Ducati Superleggeras, which cost $65,000 each and are limited to 500 sold. Only 1,500 Ducati Desmosedicis were built and sold for $72,500. Pitt also rides a Ecosse Titanium, BMW and Yamaha, among others.
Leno's collection also includes a 1933 Indian Four and a 1946 Harley-Davidson WR.
Pitt's wife, Angelina Jolie, one of the biggest female celebrities on motorcycles, owns a BMW, MV Agusta and an Indian. And a helicopter!
George Clooney owns a Harley and is said to favor Indians.
Tom Cruise owns the $92,000 Vyrus 985 C3 4V Italian sport bike and a $50,000 Confederate Motorcycles Hellcat.
Lord of the Rings actor Orlando Bloom owns several Ducati motorcycles including a Sport Classic, a Monster motorbike and a Streetfighter.
Usher owns a Ducati 848 Evo Superbike and a Ducati Monster 1100 EVO motorbike.
Musician Wyclef Jean also owns a Ducati.
Ryan Reynolds likes Ducati's Paul Smart 1000 sports bike.
Ben Afflec also owns a Ducati and a BMW and Suzuki.
Keanu Reeves is another actor with a collection of bikes, including a Harley-Davidson Dyna Wide Glide, a West Coast Choppers Bike and a vintage 1973 Norton 850 commando.
Actress Catherine Bell owns Harley-Davidson, Yamaha and Honda.
Actress Molly Culver has a collection of Harleys, Ducati, Honda, Kawasaki and Yamaha.
Pamela Anderson owns H-D and Triumph.
Sports celebrities collect them too! David Beckham owns a Hellcat motorcycle.
Red Sox fans bought 3rd baseman Bill Mueller a Harley.
The West Coast Choppers "El Diablo" motorcycle built for Shaquille O'Neal by West Coast Choppers owner Jesse James, and was considered, at the time, one of the largest custom motorcycles ever built.
The TV show "Sons of Anarchy" is getting credit for the resurgence of motorcycle sales. Harley Davidson supplies hogs for the show. But film and TV celebrities going back decades have had an impact on the popularity of motorcycles, says David Morris, author of Motostars: Celebrities and Motorcycles.
"If you go back to celebrities who rode motorcycles in the '40s, like Humphrey Bogart, and in the '50s and '60s, with Elvis Presley and Steve McQueen, and you then look at all the stars riding today, motorcycling is something they see as an expression of themselves."
Elvis Presley rode a Honda bike in the film "Roustabout." There is also a legendary story about Jay Leno buying an old motorcycle that was once a gift from Priscilla to Elvis. You decide.
Steve McQueen, known for his famous motorcycle jump in "The Great Escape,"  owned over 100 bikes.
Marlon Brando made a big impact riding a 1950 Triumph 6T Thunderbird motorcycle in the 1954 movie, "The Wild One."
James Dean owned a 947 CZ 125-cc and a Triumph TR5 Trophy.
Evel Knieval's favorite bike was a Harley-Davidson XR-750 from December 1970 until his final jump in January 1977. One of his XR-750s is part of the Smithsonian's National Museum of American History. It is the winningest race bike in American history.
Justin Timberlake owns a custom Harley and John Travolta loves his so much he appeared in the movie "WildHogs."
Maroon 5 lead singer Adam Levine owns a Harley and the reason for his choice? "I went for the Fat Boy FLSTF, essentially an up-to-date version of the bike Arnie rides in Terminator 2."
"Arnie" is actor/politician Arnold Schwarzenegger, who also owns an Indian.
Dennis Hopper and Peter Fonda rode customized Harleys for the film "Easy Rider." Fonda's personal collection includes a BMW R 27, multiple Triumphs, a Bultaco, a Montesa, a Ducati, two BMW R1200RSs, two Harley-Davidson Fatboys, a Road King and an MV Agusta F4-1000, according to a newspaper interview.
Marianne Faithful wore only a full body leather catsuit while riding a Harley in the 1968 film "Naked Under Leather", which was also known as "The Girl on a Motorcycle."
The musician Pink owns a Triumph Bonneville T100 and a Harley-Davidson Sportster XL Iron 883N.
Actor Hugh Laurie also owns a Triumph Bonneville.
Actor Adrien Brody owns a Yamaha R1.
Canadian model and actress Tricia Helfer rode all terrain vehicles when she was young but prefers Harley-Davidson now.
Actor Josh Hutcherson had a role in the movie "Motocross Kids" (2004), but is best known for the "The Hunger Games" series, rides a blue, black and silver Harley.
"Entourage" actor Adrian Grenier has been seen riding an Evolve, a 100% electric motorcycle made in USA.
Celebrities Injured in Motorcycle Accidents
In August of 2000, 1960s sex kitten Ann-Margaret slid on some sand and was thrown off her Harley in Brainerd, MN. and suffered three broken ribs and a fractured left shoulder. The next day, the 59 year old actress served as the Grand Marshal of the Colonel's Truck Accessories National Hot Rod Association Nationals, riding in a pace car with her left arm in a sling and waving to 140,000 people in attendance.
Actor Gary Busey was involved in a violent crash in 1988 after picking up his bike from the Harley-Davidson dealership in Culver City, CA. Busey suffered a fractured skull and doctors feared permanent brain damage. According to multiple news reports,, during the second season of Celebrity Rehab in 2008, Busey was reportedly referred to psychiatrist Dr. Charles Sophy, who diagnosed that Busey's brain injury has had a greater impact on him than realized. He described it as essentially "weakening Busey's mental filters" and causing him to speak and act impulsively. Ya think?
Actor Eric Estrada was injured filming scenes from the TV show CHiPs in 1980 when he lost control of a 1000cc Kawasaki he was riding behind a camera car. The accident was included in the episode with some filming done in the actor's hospital room. Fans send hundreds of gifts, including a nude nurse doll.
Athletes Involved in Motorcycle Accidents
Many prominent athletes ride motorcycles even when prohibited in their contracts. One of the most recent was boxer Paul Williams who became paralyzed in May 2012 when he swerved to avoid hitting a car on a highway in Atlanta, Georgia. Williams was launched 60 feet into the air, and his spinal cord was severed upon landing on his back.
Just four months after becoming the youngest quarterback to win a Super Bowl, Pittsburgh Steelers Ben Roethlisberger broke his jaw, nose and some teeth in 2006 while riding his black 2005 Suzuki Hayabusa. Ben's contract did not prevent him from riding, but he didn't have a valid Pennsylvania motorcycle license and was not wearing a helmet at the time of the crash.
In 2005, Cleveland tight end Kellen Winslow Jr. missed the season from injuries he sustained while learning how to ride his new sport bike in a parking lot. With his leg still healing from a previous knee injury, he re-injured the knee and a shoulder when he hit a curb and was thrown over the handlebars.
Basketball player Jay Williams was involved in a motorcycle accident when he crashed his bike into a streetlight on Chicago's North side. Williams' contract with the Bulls prevented him from riding a motorcycle. Williams wasn't even licensed to drive a motorcycle in Illinois and wasn't wearing a helmet at the time of the accident.
Indy Racing League driver Dario Franchitti broke his back (slight fracture of the L1 vertebra) in a motorcycle accident while vacationing in his native Scotland in 2003 and missed several races, including the Indianapolis 500. His bike crash was blamed on a mechanical problem.
It didn't involve a motorcycle, but this is too good to not share! Roger Craig, a three-time World Series champion, didn't have any odd injuries during his playing career however he certainly had one after joining the San Francisco Giants as manager. Craig showed up for a game in the early 90s with an injured hand, one he said he cut while fiddling with a bra strap. Props to Roger Craig though as he was man enough to admit how he got the injury.
All items are shipped in a high-impact corrugated container.
Allow 3-4 weeks delivery AFTER we receive your
20 business cards to be used in the sculpture.
*Shipping and sales tax for Illinois customers not included.